Somehow it is already December, the holidays are only weeks away and tons of people will soon be taking time off from work to ring in the new year. Time really does fly! Because winter break is upon us and so many individuals will have expanded free time, it is highly important that owners and Operators of RCI products, like Sky Trail®, Sky Tykes® and Clip 'n Climb®, be prepared for the rush and follow proper safety procedures.
To help, we've put together a quick and easy to read infographic that runs through 7 essential tips Operators will need to remember during such a busy period. All should be familiar to anyone who has operated or currently operates an RCI attraction but with all the holiday commotion, we wanted to provide a little refresher! If you'd like to print this list out for your employees, it is available in our Client Portal under "Marketing Resources".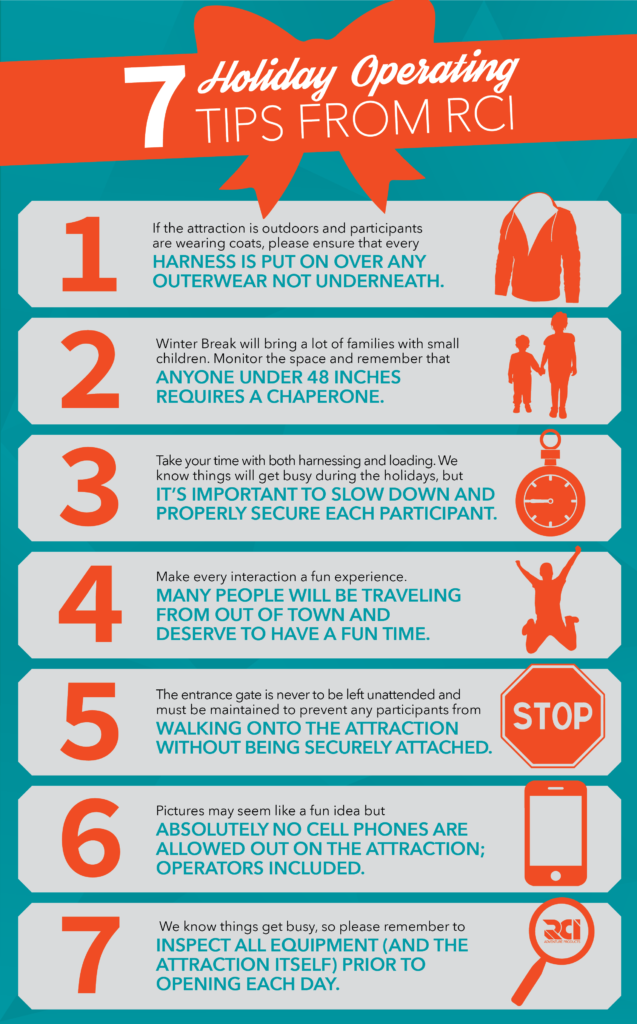 TIP #1
The weather is getting colder and naturally, guests will come into your facility wearing coats. If your attraction is indoors and plenty warm, you likely won't need to worry about this tip, however, if you possess an outdoor attraction and participants are expected to wear coats, pay close attention. Harnesses should never be put on underneath a participant's coat; they are always to be properly secured over top of any outerwear. This will guarantee the participant is taken care of and the most safe.
TIP #2
So many families will be frequenting your facility during winter break due to kids being out of school and parents still wanting to keep them sufficiently entertained. Be sure to monitor the area and be mindful that anyone who is 48 inches or smaller should always have a chaperone with them. In addition to a proper chaperone, those who are of that height and size must also be able to safely fit into a harness. If they do not, they are unfortunately not able to participate.
TIP #3
One of the most important things to remember when your facility is at its busiest is to slow down and take as much time as you need to securely harness and load participants onto the attraction. To avoid any unwanted mistakes or incidents, it is crucial to not rush yourself and make sure nothing is missed in the harnessing/loading process.
TIP #4
Who doesn't want to have a good time?! The hustle and bustle of the holiday season can be stressful but it is imperative that each participant and individual you come into contact has fun. Not everyone is a local. Some people come from out of town or even from another state so they deserve a positive experience just as much as anyone else. Make everyone who walks through your doors feel welcome!
TIP #5
Due to the influx of people, it may get overwhelming at times and cause you to turn your back in order to help someone. Aim to always scan and guard the area you are in charge of to ensure the entrance gate to the attraction is never left unattended. You never want any participant to enter past you without being securely attached as they would not be considered safe.
TIP #6
Visitors and even participants will want to take pictures to document their experience. If individuals are on the ground and are not actively participating on the attraction, they are welcome to take pictures of family and friends but absolutely no participant or Operator is allowed to have a cell phone out. It is a distraction and does not adhere to RCI safety protocol.
TIP #7
The inspection of the entire attraction and all safety equipment must be performed before the first participant begins their adventure. Also be sure to take note of any item or aspect of the attraction in need of repair so appropriate parts can be ordered and or fixed.
We hope you find this helpful and we wish everyone a safe holiday season!