With the weather warming up and the summer season practically knocking on everyone's doors, vacation is without a doubt on the brain and is hard to shake. One way to satisfy the desire to escape and take a mental break is to grab your flip flops and board a cruise ship. Cruise ships have become an extremely popular vacation choice for individuals around the world as they provide plenty of leisure activities for every age and allow those onboard to visit several port locations that each offer their own cultural gems for new and seasoned travelers alike.
But cruise ships weren't always how they appear today with luxurious spas, spacious cabins and live shows. Only in the last 30 years or so have they risen above their "older" image and catered to both younger and more experienced passengers with a variety of entertainment available.
It's time to take a quick trip down memory lane to see just how far modern cruise ships have come before we can appreciate how much they feature today.
The Humble Beginnings of the Cruise Ship
Embarking on a cruise was not always a viable option for people nor was a vacation the sole purpose for getting on a large ship in the first place. Early in the 20th century, ocean liners, not cruise ships, began to be popularized and were "built to quickly carry passengers and cargo across the Atlantic Ocean","immigrants moving to America" or "Europeans and Americans looking for vacations" [1]. Large-scale travel via water was not entirely convenient and was still a bit rough around the edges compared to today's cruising standards.
The ocean liner industry did not reign for long, however. Both WWI and WWII put a halt to the traveling ships as "most were converted into troopships and many were lost in battle or sold for scrap" once fighting ceased [1]. The pre-cruise industry then essentially collapsed due to the rise of the passenger jet service. In truth, "cruising, as many people would describe it today, dates back a little over 50 years to the mid-1960s" when many old ocean liner ships began to be "repurposed into pleasure vessels that mostly sailed in warm-weather regions such as the Caribbean" [1]. It was finally in the 1980s and 1990s when the stuffy, "senior" or honeymoon image of cruises fell off and travelers of all kinds became interested in the rise of available amenities.
Today's Entertainment On & Off the Ship
The range of entertainment featured on modern cruise ships is downright jaw-dropping. No matter your age, there is an activity that you can enjoy whether by yourself or with family members.
Some of those activities include (but certainly are not limited to):
Live shows performed by professional singers and/or dancers

Interactive games usually curated by a host

Themed deck parties

Swimming pools & wave pools

Water slides

All-inclusive spas

Highly rated restaurants that feature a variety of cuisines
And that is not even including the fun available once passengers step off of the ship and enter into a port-of-call location! Port destinations serve as an extension of the cruise experience and open those traveling up to new food, souvenirs and of course different cultures. Also, because passengers are not limited to the confines of the cruise ship, activities featured at ports-of-call can be larger and span across greater distances.
For example, there can be a string of restaurants and shops mixed in with go-karts or Sky Trail® aerial attractions and Clip 'n Climb® climbing walls. RCI is well versed in providing adventure for both guests onboard the cruise ship and those wishing to venture into a port for a few hours.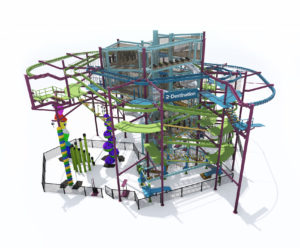 Want a sneak peek at something we're working on for those land destinations? Check out a large-scale entertainment hub option that features the integration of Sky Trail®, Sky Tykes® and Clip 'n Climb® for a fully loaded experience. 
Cruise ships and ports-of-call have come a long way since their inception and the maritime industry is still expected to grow and develop further. What will the new trends be? Will more niche markets and forms of entertainment be explored? Only time will tell but we can't wait to provide even more excitement to this unique industry!
Sources:
[1] A History of the Cruise Ship Industry. (2018, November 19). Retrieved from https://www.resolveacademy.com/Resources/Blog/1165/a-history-of-the-cruise-ship-industry.
[2]  Rotondo, A. (2019, June 4). Trends in Cruise Ship Entertainment. Retrieved from https://www.cruisecritic.com/articles.cfm?ID=707.