When most people buy things for themselves, they're content with only what it does for them but if you're a business owner purchasing attractions for your facility, you want what is bought to benefit your guests AND eventually pay itself off. That's the goal anyway and it makes sense for a successfully run business. Before you know exactly how your purchase is going to affect your bottom line, however, you most likely want to have an idea of the timeframe in which your investment will be realized. This all lies in the product's overall ROI, which I'm sure by now you know means 'return on investment'.
For RCI adventure products (Sky Trail®, Sky Tykes®, Sky Rail™, Amaze'n Mazes™ and Clip 'n Climb®), the ROI is largely dependent on a facility's location. Is there a huge amount of foot traffic every day or is it only on certain holidays? Is the building situated in the center of a major city or more towards the rural outskirts of a town? Many factors can affect the time it takes for a business to see their purchase paid off so today, we're going to discuss a general rule of thumb when thinking ROI so you can have a better understanding and know what to expect with your attractions!
What to remember
If you are the owner of a Sky Trail® aerial attraction and you want to better understand its ROI, an easy way is to mentally work backwards. What we mean by this is if you want to have a figure that equates to the moment your investment is realized, you'll need to do a bit of quick math. Here's how it works:
First, take your initial investment number.
Then, divide that very same number by your ticket price
Voila! You have an attendance figure that is more relatable to your business
Let's say you end up with the number 10,000. That means you need at least that number of people to use your Sky Trail® if you want to realize the initial investment without factoring in operations and overhead costs.
Consider ticket price
What you charge for your attraction(s) matters in the long run. Think about it: the price for a ticket is what helps to speed up the process of paying it all off. Every business is different though. Some realize their investment in 1 year with high traffic while others take longer because they have less attendance. But remember, it isn't  a bad investment if people are using it!
You may already be familiar with the chart below but we wanted to show it to you once again precisely because it illustrates how much the ticket price can vary depending on what attractions you own. For example, if you possess a 3-level Sky Trail® with a Sky Rail™ you can typically charge between $15-20 for a ticket. Add on a QuickFlight free-fall device and that ticket can increase by at least $5.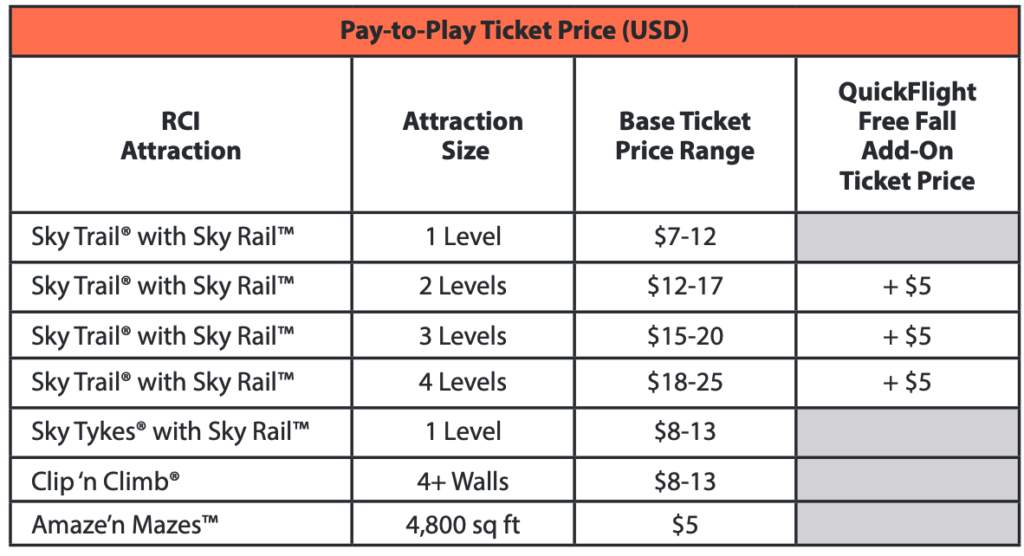 So, when trying to calculate ROI, remember that it helps to factor in the attraction(s) you own, your location, the amount of foot traffic and average ticket price. Each business is different and they do not all operate the same!