The IAAPA Expo is officially over for this year, can you believe it?! Despite spending most of 2019 planning and executing our booth, it sure seems to have gone by in a flash. Regardless of how fast it all felt, we had yet another great show that we would like to thank all attendees for, including those who stopped by our booth. We received wonderful feedback on the vibrant 1-level Sky Trail® we featured and in total, had nearly 1,800 participants try it out! And bonus, that very Sky Trail® has already been sold to an undisclosed client so even more participants will be able to enjoy it in the very near future.
So, let's get down to the details of the show itself and by that we mean who was inside of our booth with us, who we had time to meet with during those 4 jam-packed days and a few of the extra activities we participated in aside from running our booth. We were all definitely busy and as always, it was a show to remember!
Who was with us
In booth 5730, we had the entire RCI sales team present to answer questions, sit down with interested business owners and discuss plans with current customers. Also with us were our authorized distributors from the United Kingdom, Australia, Germany and Latin America. Needless to say, it was a full booth but we definitely had a bounty of knowledgeable people in attendance to assist anyone who had time to sit down or just wanted to inquire.
Who we met with
Those that were not stationed in our booth but we did still have time to meet with both at the show as well as outside of it included our trusted partner, Headrush Technologies and global partners, Climb Korea Co., Ltd and Zipline Korea, Inc. One of our newest authorized distributors in Japan, TOSHO, met with a few of us to check in, relay how business was going for them and appreciate all that IAAPA had to offer.
A fairly new client, the family entertainment complex Compass, also stopped by to hammer out the details for their Virginia location that is still underway. The complex will feature go-karts, a full-service restaurant, six-screen cinema, arcade, 7pole, 2-level Sky Trail® with 180-degree Sky Rail® as well as 3 Clip 'n Climb® climbing walls. It was great seeing you at IAAPA, Compass & we're excited to work more with you on our project!
What we did
One of our most notable activities that we participated in outside of the booth was a joint press conference with waterpark giant, WhiteWater West. Our Chief Sales Officer, Jon Weston, attended as a representative for RCI and alongside WhiteWater explained to all listening that RCI would be partnering with the waterpark company to take over their dry play attractions Adventure Trail and formerly, No Boundaries. The No Boundaries product is now known as the Destination series and has been redesigned to feature our very own aerial attractions. If you're looking for high capacity, high thrills and low operator involvement, the Destination series product line is for you.
If you would like to see more of the WhiteWater/ RCI press conference, you can click here.
Putting the focus back on the booth once more, we did something a little different this year and prominently featured both a photo wall where individuals could take pictures and use our hashtag, #RCIadventure, to win a prize and a signature wall where participants coming down from the Sky Trail® could write down words best summarizing their experience. Check out all of those signatures!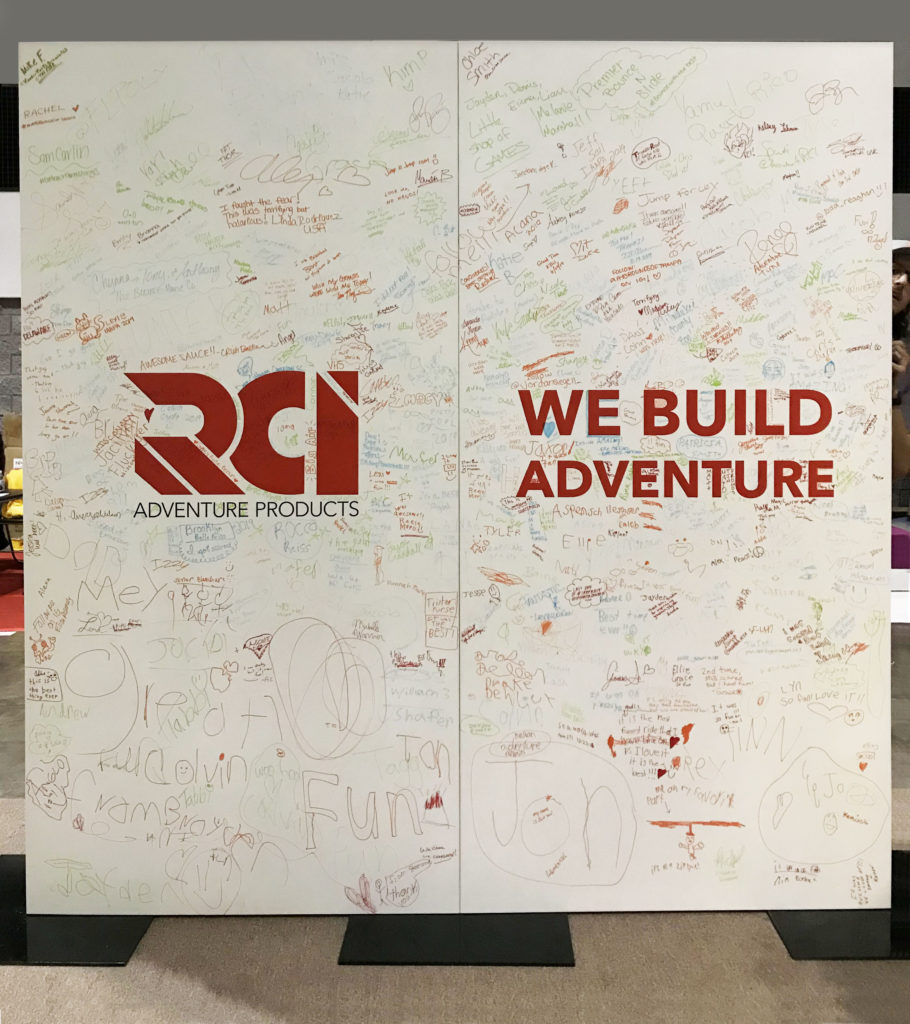 IAAPA is always a memorable show filled to the brim with the latest and greatest in the amusement attractions industry. Even though it was our 16th year in attendance, it never gets old and always finds ways to surprise us!
The best way to describe how we felt during the show is encapsulated in these boomerang videos so please enjoy:
Thanks everyone for a great show and we'll see you there next year!